M.A.C has given the white-packaging Lightful range a whole new look. They now come in a stunning light grey-ish blue packaging and is being repromoted. They are ampped up a notch with M.A.C's exclusive breakthrough Charged Water technology. With active ingredients like green tea and Vitamin C, these products boast to lock in moisture while revealling a brighter, more luminous skin (with every day use, of course).
I've recently talked to one of my local MA, and according to her, all of them are reformulated and is better than ever. They have the testers in already, but she's not allowed to give out samples yet. It is planned to be launched sometime in the next week or two. But not to worry, this range is permanent in all Asia counters. So, just take your time, ask for a sample or two, try it out first before commiting to a full bottle. Well, unless you're already using it, then why not?! =)
Lightful Foaming Creme Cleanser
-
100 ml / 3.4 US FL OZ
This cleanser foams up to a creamy mousse like texture. It claims to keep the skin feeling hydrated while leaving it feeling clean.
Lightful Active Softening Lotion
-
150 ml / 5.0 US FL OZ
Some of you might be more familiar with the term
toner
rather than
softening lotion
. A softening lotion is basically like a toner. It is still the second step to your daily cleansing routine (after your cleanser). This water-based softening lotion claims to immediately hydrates the skin, leaving it feeling refreshed, soothed and soft with a more even-toned look.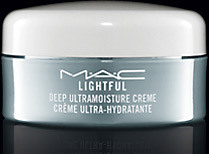 Lightful Deep Ultramoisture Creme
-
50 ml / 1.7 US FL OZ


This lightweight, gel-like cream comes in a typical moisturiser tub design. It claims to provide long-lasting moisture protection and help skin look more luminous over time.
Lightful Charged Essence
-
30 ml / 1.0 US FL OZ


This small little bottle of concentrated, gel-like essence claims to help skin look and feel smoother, softer, brighter and more resilient.
Photo and info source: M.A.C cosmetics