Peach, anyone? =) I bet most of us have a soft side for peach. How can one resist the sweet smell of a freshly cut peach. Yummy!
L'Occitaine has come out with a Peach Blossom collection, that combines the fruity scent of peach and floral touch of blossom. There is a polishing shower gel, body moisture gel, eau de toilette and a glossy lip balm in this collection.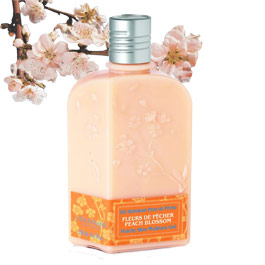 I love love love the scent of this collection, especially the body gel. To me, there is more peach than blossom to it. The blossom scent is very subtle, and the peach is super fruity. It doesn't smell overly sweet. Just very yummy. =D It makes you feel like you're in a fruit orchard surrounded by sweet juicy peaches. Heaven eh?
This moisturizing body gel has a unique texture that leaves a powdery, velvety finish.

Enriched with peach kernel oil, it nourishes the skin and envelops it with the fresh, floral and delicious scent of Peach Blossom. With every day use, your skin becomes as soft, supple and silky as a peach!

-- L'Occitane
Here's what I think about the new and limited edition Peach Blossom skin moisture gel:
Pros:
It's peach. What more can I say? =P The scent is super super yummy and fruity. I love fruity scents. After I tried this on in the store, I can't stop smelling my own hand for the rest of the day. (Yeah, that sounds really weird. LOL.)
The body gel applies very smoothly and does not leave behind a greasy residue.
Makes your skin feels velvety soft and smooth.
Although it's just a body gel, the scent lingers around quite a while.
Cons:
This will not be moisturizing enough for winter or dryer months, as it is a gel.

I think this collection will appeal to a lot of people. If you still haven't check this out yet, run to your nearest store and try it on. =)
If you're a perfume kind of person, check out the Eau de Toilette too!
Info and photo source:
L'Occitane